Windows 10 was supposed to be the end all of the bug fixes for the oft times problematic Windows suite. However, if you upgraded and are still experiencing issues, you aren't alone. Fixing issues caused by Windows 10 updates can be a pain.
It's a quality upgrade, truthfully, but no update is without bugs. There's always a chance that any upgrade might wreak havoc on your system or cause some simple, but annoying, issues.
Here are five of the most common issues with Windows 10 that you can fix yourself. Hopefully, they'll ease your problems and give you back your computer. Let's give fixing issues caused by Windows 10 updates a try before reverting to your old operating system or calling the help desk.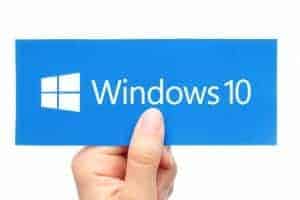 1. You have less storage than you did before
Did you know that your old operating system doesn't disappear when you upgrade? Microsoft has a different policy than Apple, for example, allowing you to keep your old operating system just in case you decide you like it better.
This is convenient if you want to revert to your previous system, but it can take up space you might want to use for something else if you don't. Once you decide you like the update and want to keep it, you can go in and delete the old version to get your storage back.
First, click on the Windows start button and type in "cleanup." This action brings up a disk cleanup app in the search criteria field. Choose it to begin the process.
Select the drive where your system is installed. If you aren't sure, then it's probably C:/ drive. The computer will scan that system, and it may take a few minutes to finish.
When it's finished scanning, it might present you with a list of files that can be deleted. Simply choose the old windows operating system, "Previous Windows Installation(s)," and you're good to go.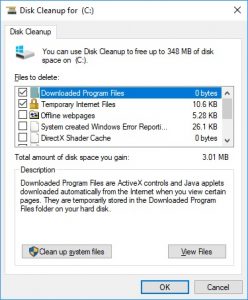 If it doesn't give you this list, choose the "clean up system files" on the bottom left. Windows will do more calculations and give you a list of files. Again, choose "Previous Windows Installations(s)," and the system will free up space. Click ok when the box asks you if you're sure. This should give you back nearly 5GB of space.
2. You're back to forced updates
You might have turned off automatic updates in previous Windows versions, and although Windows 10 does handle them well, you'd probably like to return control to yourself.
There's a workaround for this in Windows 10 Pro. Go to the start option and search for "gpedit" This opens your group policy editor. Expand the computer configuration in the left pane and choose "Administrative TemplatesWindows ComponentsWindows Update." This should give you some options.
Choose "configure automatic updates" from the list and then "enabled radio" button. From here, choose "2" in the left-hand box, "notify for download, notify for install." Now you'll be notified whenever there are updates.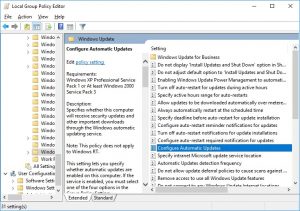 You can't perform this action from Windows Home, though it is possible to receive notifications before your computer restarts. Go to Advanced settings and navigate to "choose how updates are installed." Click "notify to schedule restart," and at least you won't be caught by surprise.
3. Your localization is wrong, or Cortana is not available
There have been reports of incorrect localization in the new Windows with many of the reports centered around the US date formats, but in some issues, users find that Cortana isn't available at all.
Go to the start menu and select "Region and Language" settings. Make sure that your country is selected correctly as well as your preferred language. Also, make sure that the correct keyboard is selected. Delete any that aren't your preferences.
Click the back arrow to return to additional options. Select "Additional date, time, and regional settings." Under the language tap, select "Change input methods" and select your correct language.
Once you've checked all these settings, go to the date and time options to see if the correct format is now available. Check the home location after this to double check that this is correct, and then use the administrative tap to check the locale.
You can use the copy settings option to apply all these changes to any other user accounts and the Welcome screen.
4. Using all your 4G data
Windows tends to use your bandwidth in the background. This is really annoying if there are multiple users on your network or if you're using a mobile hotspot, it can ruin your data allowance.
Stop Windows 10 from destroying your cell data allowance by going to settings and then "network and internet." Select the wi-fi option and then go to advanced settings.
Choose "set as metered connection" to make Windows stop fetching data for things like app refreshes and start screen tile updates.
Unfortunately, if your computer connects to the internet via Ethernet, this isn't an option.
5. Incorrect default apps for files
Sometimes when you update the operating system, Windows restores factory defaults. This is annoying if you custom-set some files to open with specific apps, including better third-party apps.
You can restore your previous preferences by heading to settings and choosing "default apps" under the system tab. You can choose which app will open different types of files from here. Simply select the type of file and choose from the box.
You can go even further to specify what type of app opens different file extensions. You could have specified programs open specific image files versus specific video files, for example.
The Windows 10 update might have a few bugs, but hopefully, this handles the one bugging you right now. Fixing issues caused by Windows 10 updates doesn't always require a professional. Let us know in the comments how these workarounds fared.
Fixing issues caused by Windows 10 updates
Fixing issues with your computer can always be frustrating. It can be even more frustrating when the issue is caused by an update(Fixing Windows Updates). If you need assistance please feel free to send us an email. We are happy to help.

President of Computer PRO Unltd. Loves arts and is family oriented.
Summary
Article Name
Five Recent Issues Caused By Windows 10 Updates and How to Fix Them
Description
After your computer does an update you might run into some problems. Read about 5 common issues and how to fix them on windows 10.
Author
Publisher Name
Publisher Logo