Use The Form To Contact Us
Fill out the Contact Us form below and we will have one of our customer service representatives call you as soon as they can. If you are requesting a price quote please include all of the relative information below. For example for a quote on a battery please list the laptop model number so we can have all the information when we call.
We have moved to our new office. It is located at 1475 Fairgrounds Rd., Ste 118, St. Charles, MO 63301. Our offices are in the back of the building. If you need assistance with bringing in your computer you are more than welcome to park at the side entrance and one of our techs will carry in your machine.
Our old location was off of highway 70 at the Zumbehl exit. Directly in front of the St. Andrews Movie Theater in St. Charles Missouri and in the same plaza as Save-A-Lot.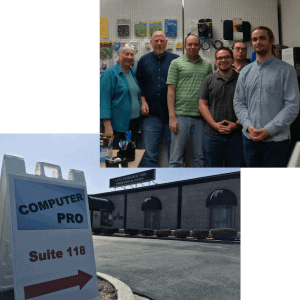 If you need emergency assistance please leave a message on our answering machine or dial extension 107. We will contact you as soon as possible. We check messages on a regular basis and we have techs on call to assist you outside of normal business hours. We do usually only respond outside of business hours if it is an emergency.
Our Phone Number is 636-442-2776 or 636-442-CPRO. This is our new main phone number to our office.
   Computer PRO Unltd.
1475 Fairgrounds Rd ste 118
St. Charles, MO 63301
  1-636-442-2776
  tech@cprou.com
  www.cprou.com
Below are some of the onsite service area's but most of our repairs are now done remotely. We are able to fix your computer or manage your network no matter where you are located. For any onsite services, you usually need to be based in the St. Louis metro area. We can make arrangements if you are outside of our usual area but this will be based on our working contract.
If all else fails, try faxing us.
…Sike.  No one faxes anymore.