Unless you've been living in a cave and have never heard of the internet, you most likely know you need some type of antivirus software on your computer. However, in today's cyber-threat filled world, an antivirus software program alone is not enough to keep your computer, and especially your data, safe.  With all of the threats abroad in the cyber world, it may bring to the question; Is Windows Defender Good Enough?
It is reported that 323,000 new pieces of malware are discovered on a daily basis (source). This makes the fight to keep your data safe harder than ever before.  This poses the question whether a baseline antivirus can keep your data safe. Windows Defender can be consider baseline since it is now included on most of Microsoft's Operating systems be default.
Is Windows Defender Good Enough For Your PC?
Before Windows 10, a free antivirus program called Microsoft Security Essentials could be downloaded on your OS. This free antivirus program generally received poor reviews during independent tests. With the arrival of Windows 10 came Windows Defender.  To Microsoft's credit, the new program does a much better job at stopping online threats. The straight answer to the question of "Is Windows Defender Good Enough to protect your computer?" is no.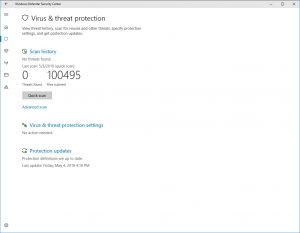 Like Windows Defender, there are a host of free antivirus programs available. Some of these free programs have even received very high marks in independent tests. For example, AVG and Avast both performed exceptionally well in independent tests for their free antivirus software. However, in the computer-protection software game, the old adage of "You get what you pay for" definitely applies.
Problems with Free Antivirus Program
Lack of Comprehensive Protection
Most free threat-protection software programs only provide a basic level of protection, and most free programs do not offer a robust firewall or anti-malware detection. Because there are so many different types of threats lurking online, for complete protection you really need a program with a host of protections designed to guard you from threats such as:
• Like-Farming Scams
• Ransomware
• Spyware
• Trojan horse
• Virus
• Worms
• Scareware
• Keylogger
Even the best free programs cannot protect you from all these threats. While you may be able to use a combination of multiple free programs for more comprehensive protection, this technique is inconvenient and will significantly slow down your system.
Read about 7 Disadvantageous to Free Antivirus's
Constant Upgrade Prompts
Any company that offers a free threat-protection program will also typically have an upgraded version which requires paying an annual fee. The company gets their foot in your door with the free version. Then they try to get you to sign up for the paid version of the software.
Lacking Customer Support
Because the free programs do not generate revenue, there will typically only be a minimal amount of customer support, if any. With free programs your only support will typically be in the form online forums and internet searches.
Adware
Even through the programs are designed to protect you from online threats, many of the free programs will hit you with advertising, as the company has to pay the bills for producing the free software. While these types of ads are typically not overly intrusive, it does slow down your system.
Increased Scan Time
Just as free programs aren't usually as effective at detecting threats as the paid versions, free programs typically aren't as fast when scanning your system. Because threat-detection programs do uses resources, like your computer's RAM, these programs can also slow down your computer's performance significantly.
Decreased Threat Detection
In all honesty, the overall difference in detection performance between the paid and free versions of threat-detection programs isn't that large. However, independent tests have revealed that paid versions of these programs do catch a higher percentage of viruses. No matter how careful you are when browsing, over time this slight difference in detection will probably result in some threats getting past the defenses of a free program.
Less Privacy
Another way some manufactures of free threat-detection programs pay the bills is to sell your data to third parties. This can includes relatively benign things like demographic information and browsing habits, but may also include sharing of things like your name and email address. Additionally, while some of the paid versions of the same programs may share data as well, there is usually an opt-out option with the paid versions. This is a good lesson in always making sure you read the fine print.
Choosing the Right Threat-Detection Software
The opportunity to save a few dollars is always tempting. However, there are just too many disadvantages with free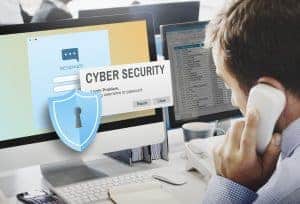 programs. Additionally, next to computer repair or replacement costs and the nightmare and expense of having your data hacked, the price for a quality threat-detection program is chicken feed. There are a number of well respected security programs available from companies like Norton, McAfee, Kaspersky and Avast. The last of the four, Avast, offers one of the most comprehensive threat-detection software programs available, scoring good marks in independent tests. Leaving you to wonder is windows defender good enough?
AVG had offered one of the best performing free antivirus programs available for several years. Avast recently purchased AVG and now offers AVG CloudCare, a value-priced cloud-based threat-protection solution.
Avast CloudCare Benefits
Removal of Conflicting Software: Avast CloudCare automatically uninstalls any conflicting antivirus software during the installation process, saving you the hassle of having to do it manually.
Dashboard: Provides a single control center where you can see the status of all your devices and stay infomed of any critical information. Avast Cloudcare also allows you to control your devices remotely. Meing you do not need to be on the same network. Since you can manage all your devices from one dashboard, you will not have to worry about which keys are is in use for each product.
Simple One-Click Installation: A straightforward one-click installer will set up Avast CloudCare on all your devices, creating a comprehensive deployment and update package.
Customized Alerts, Scans and Updates: You will be able to customize SMS or email alerts for all your devices and are able to update or scan multiple devices simultaneously, helping you maintain security wherever you may be.
AntiSpam and Antivirus: With Avast's acquisition of AVG you now have the best of both worlds, combining the two company's products into one comprehensive threat-protection system.
If you are still wondering is windows defender good enough to protect you from online threats you should consider taking a look at Avast CloudCare. With all these advantages and none of the drawback of the free programs, Avast CloudCare is definitely worth considering. Also, Avast CloudCare comes with a 30-day free trial, so you can see how it works for an entire month before you decide if the program is a good fit for your needs.
Let us known you thought below. Is Windows Defender Good Enough?

Hi, My name is Josh Giesing. I am the Operations Manager at Computer PRO Unltd. In my free time, I enjoy reading and have a passion for learning.
Summary
Article Name
Is Windows Defender Good Enough?
Description
Windows Defender is included on all Windows 10 computers. It is considered to be the baseline product. Is it good enough to protect your data?
Author
Publisher Name
Publisher Logo