Seagate's New 12TB Enterprise Hard Drive
If you are like me, seeing the availability of a 12TB hard drive is exciting.  For those of us with massive amounts of music and videos, large hard drives are a must.  The downside is that the largest hard drive on the block is the most expensive, especially an Enterprise version.  The release of the 12TB means the 8TB and 10TB drives should eventually drop in price.  Seagate is also planning on releasing a 14TB and 16TB drive over the next 12 to 18 months, with a 20TB drive arriving at a later date.
Helium Technology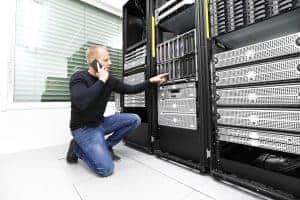 The new Seagate 12TB uses helium technology.  Helium is a gas that is one-seventh less dense than air, resulting in smoother operation with less friction.  This also enables lower power consumption, increased capacity, and a four to five-degree reduction in temperature.   To use Helium, the drives must be hermetically sealed, which allows drives to be operated in more severe conditions.
Seagate is targeting Cloud Service Providers, Enterprises, and Telecoms with these new drives.  Seagate focused on several areas to improve the firmware and hardware for today's ever increasing demands on storage.  While there are no current plans for a consumer 12TB drive, it should just be a matter of time before Seagate has consumer versions.
The Seagate 12TB comes with a 5-year warranty and is rated with a 2.5 million-hours MTBF (mean time between failure).  It comes with a 256MB Cache and a very healthy 550TB per year usage rating.  The drives will not be shipped until sometime around June.
HGST
Western Digitals' subsidiary, HGST, the first company to come up with Helium hard drives, will be releasing their own Helium drives, both a 12TB and later a 14TB.  The 12TB drive is expected sometime this year.  Their drive has similar specs to the Seagate, with a 256MB Cache, 2.5 million-hours MTBF, and a 5-year warranty.
Especial when adopting to new technology make sure you have a reliable backup!