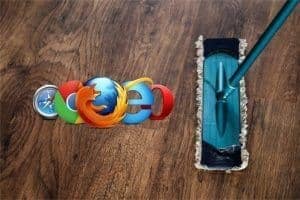 Is your browser not running as quick as it used to? or perhaps you have toolbars cluttering it? Maybe you just want to clean it up a bit. Here are some ways to give your browsers a good Spring Cleaning.
Internet Explorer
To clean Internet Explorer, or IE, there are a couple things we can do, the first is to disable add-ons. Disabling add-ons is as simple as opening IE and going to the tools menu on the right (it looks like a gear). About halfway down is "Manage add-ons" click on it. This will bring up the toolbar list, click on any unwanted toolbars or extensions and then click in the bottom right to disable them.
Chrome
To disable extensions in Chrome click on the menu icon in the top right (it looks like the horizontal lines). On this list we want the "settings" option in the lower half. This will open a whole new tab in Chrome populated by the settings. on the far left side are the sections you can choose from; we want to navigate to the "extensions" section. In here each extension will have a checkbox you can click to disable/enable them. You will also find a trash can icon that will allow you delete the extension entirely.
Firefox
To disable extensions and toolbars in Firefox is very similar to Chrome. To begin click on the "Open Menu" button in the top right that look like three horizontal lines. Clicking on this will open a small menu, the bottom right button is "Add-ons", click on it. This will open a new tab. On the far left click on the extensions option. This will list all of your add-ons and toolbars, there will be "disable" and "remove" buttons to allow you to control their respective actions.
Uninstall Add-ons and Toolbars.
The final way to remove add-ons and toolbars is by uninstalling them in the control panel. Start by going to the start button in the bottom left corner. Then navigate to the "Control Panel". From there click on Programs and Features (or "uninstall a program" if in category view). From there  simply click on any toolbar or add-on you don't want and click the uninstall button at the top of the list.
Note: This is a list of all the programs installed on your computer, not just the add-ons and toolbars. Be sure to be careful about what you uninstall, you wouldn't want to remove a program you regularly use.