Avast's Free Antivirus would be our recommended choice if you decided to choose a free antivirus. When protecting your computer we always stress that you look into the paid options first. We praise AVG CloudCare, and Webroot Business Anywhere packages but, when the budget is a concern we point you to Avast's free antivirus.
Avast has been around since 1988 and is not new to the Antivirus industry. It currently is the most popular antivirus and does an excellent job of protecting your computer. We started recommending the Avast as our free antivirus of choice a couple of years ago. Avast is also the parent company of AVG and Ccleaner. Both pieces of software you may be familiar with using. But as you are probably aware all free software has one main flaw! It will bug the hell out of you if you don't buy it!!! Read more about the disadvantages of free antivirus protection.
Avast and other free antivirus software do include other unneeded items that will install along with the antivirus. Such as Avast web browser or it's VPN feature. Once the antivirus is installed, it will persist that you use these features and will pop up and inform you about sales on its product. Trying to coach you into purchasing it. To avoid some of the pop-ups and unnecessary features being installed we recommend that during the install process you select the Minimal protection. This way it will install the features that you want an antivirus without including all the bloatware that is pushed with the install.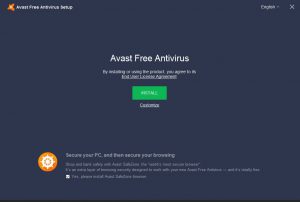 To do a minimal install select "Customize"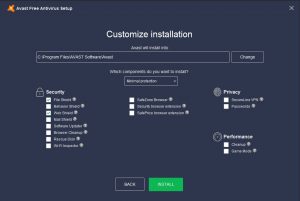 Then select Minimally Protection
Protect All Your Devices With Avast Free Antivirus
Avast is available on your other devices too. You are able to protect all of your devices with one platform. Avast can install on your Windows PC ( Windows XP and newer) it will also work on Mac OSX and Android.
No matter the OS you will have an option to install their free antivirus.
My Option Of Avast Free Antivirus
Avast Free antivirus will meet the needs of some home users but, with the annoying popups and the extra items that are installed with it. I would highly recommend that users look at a viable paid option instead of the free version, but if you do decide to choose a free antivirus I would recommend Avast. It is a completely free antivirus for home users. Under their terms of service, business is not allowed to use the free version.
The only thing the free version is lacking its ability to give a centralized dashboard, firewall, and spam protection.
If you have chosen a different antivirus let us know in the comments below.

Hi, My name is Josh Giesing. I am the Operations Manager at Computer PRO Unltd. In my free time, I enjoy reading and have a passion for learning.
Summary
Reviewer
Review Date
Reviewed Item
Author Rating