Windows 7 is Coming to an End
Windows 7 has been around for nearly ten years.  We've all had our fair share of ups and down on the operating system, but for the most part, it's been a great run.  For most of us utilizing a computer in our every day lives, we've used Windows 7 at least once.  I got my first computer in 2009, rocking Windows 7 with an AMD Athlon 64 X2 and 2GB of RAM.  Not very fast compared to today's standards, but it got the job done.  As time goes on, computers go out of date.  Hardware development is exponential.  New ideas are being put into motion in what seems like just weeks apart from the previous newest technological update.  However, hardware isn't the only thing being developed at a quick rate, or even going out of date.  Software is right alongside it.  There comes a time where we have to say goodbye to our hardware/software.  And for Windows 7, no matter how sad it may be, that time is now.
What You Need to Know
Windows 7 is going to be ending a few months after its 10th birthday, on January 14th, 2020.  So what does this mean for you and me?  Well, that depends…  Here's a tree diagram help to find out your next move.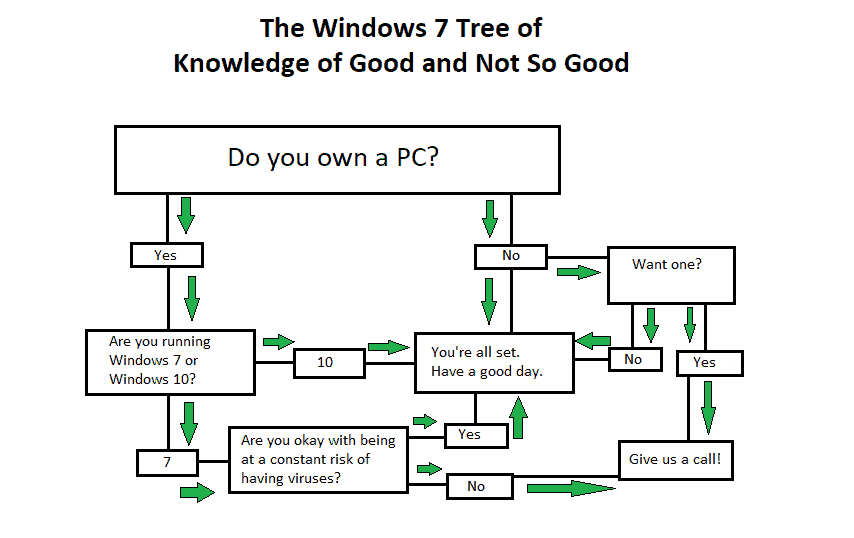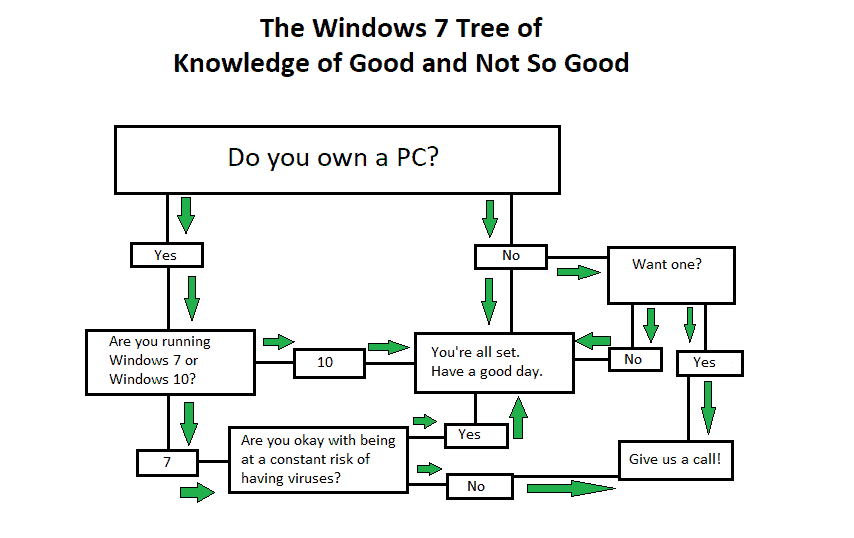 The bottom line is that Windows 7 is no longer going to be updated.  Meaning no security.  Do you ever wonder why Microsoft puts out patches every single Tuesday (Patch Tuesday)?  It's to keep up on proper security measures to fend off viruses and potentially harmful attackers out of your PC.  Essentially, it's Microsoft's way of keeping one step ahead of hackers and other threats.  With this no longer being a normal practice for the Windows 7 OS, your device will be at a very high risk of receiving a harmful virus.
It isn't just security you have to worry about either.  Compatibility is another problem you're going to have to deal with.  Regardless of Windows 7 going out of date or not, newer programs are going to be compatible with newer OS's, such as Windows 10, Linux, and iOS.  The fact is that it is going out of date, which gives programmers and companies more of a reason to stay away from older/out of date software.
What Should I Do?
First off, don't panic.  At Computer PRO, we strive to make sure all of your tech needs are satisfied.  We'll walk you through to process and make it as least stressful as possible.  Eric will even hold your hand if you wanted, and he'd enjoy it.
Let's get down to business.  The first thing you need to know is that if you're rocking a Windows 7 system right now, there's a possibility of it being able to run Windows 10!  It's fully dependent on the specs, however.  So let's take a look together.  Here are the Windows 10 System Requirements:
CPU: 2.5 GHz (The faster the better)
RAM: At least 8GB
HDD: 320GB (Minimum)
Depending on your specs, you should be able to simply bring your machine in and we'll upgrade it for you!  All of your data will still be there, along with certain programs.  There are no guarantees which programs will move over because of compatibility like I mentioned earlier.
What if I don't meet the system requirements? 
Don't sweat it!  There are plenty of options!  The first being that we can simply upgrade your PC.  We can upgrade any component in your PC.  Of course, there's a matter of deciding whether it's really worth upgrading your PC.  If your PC is 8+ years old, perhaps you could look at a new PC.  Which brings me to the second option, getting a new PC.  We have a variety of options for customers looking to get a new PC.
New PC – You choose the parts and we build it!  Not sure what parts to choose?  No problem!  We can help you decide what's best for you, whether you're wanting to skim emails, play solitaire, or even run VR, we've got your back!
New Laptop – We typically have a few brand new laptops in stock for you to choose from.  The biggest difference among them being choosing between AMD or Intel.  Find one online you like?  We can order it in for you and add any software you need!
Used PC's/ Laptops – We have used Laptops/PC's in stock as well.  All of which are factory refurbished, saving you money while also giving you top-notch quality!  We can also upgrade parts in our used builds, but there are some limitations.
Want to learn more?  Check out our blog posts to see stuff like How To Build a PC From Scratch, or Tips for Buying A New PC.
In Closing…
Just to recap, it isn't the end of the world, so don't panic.  However, time does fly pretty fast, and Windows 7 will officially be out of date before you know it.  Don't put it off and wait before it's too late.  Stop by or give us a call today, and let's get you updated to Windows 10!
Have any questions about Windows 10 and what it's capable of?  Check out this post, or give us a call at (636) 442-2776.  We're here to help!
It's been a good one, Windows 7.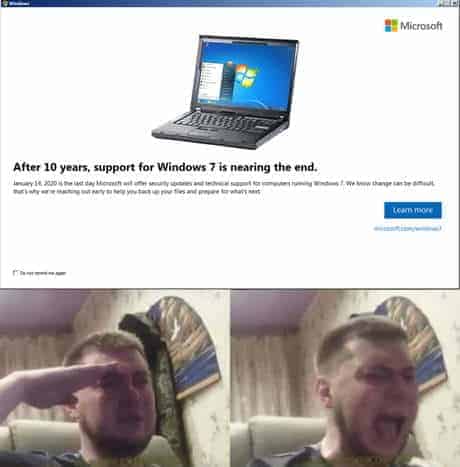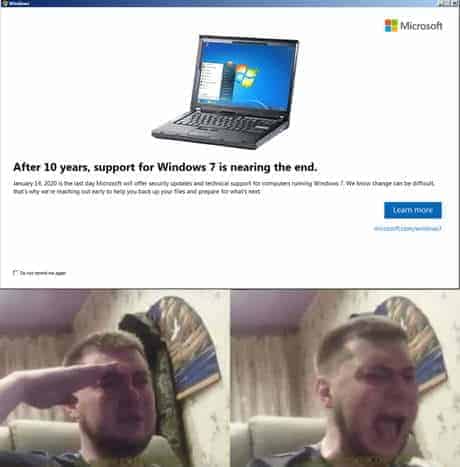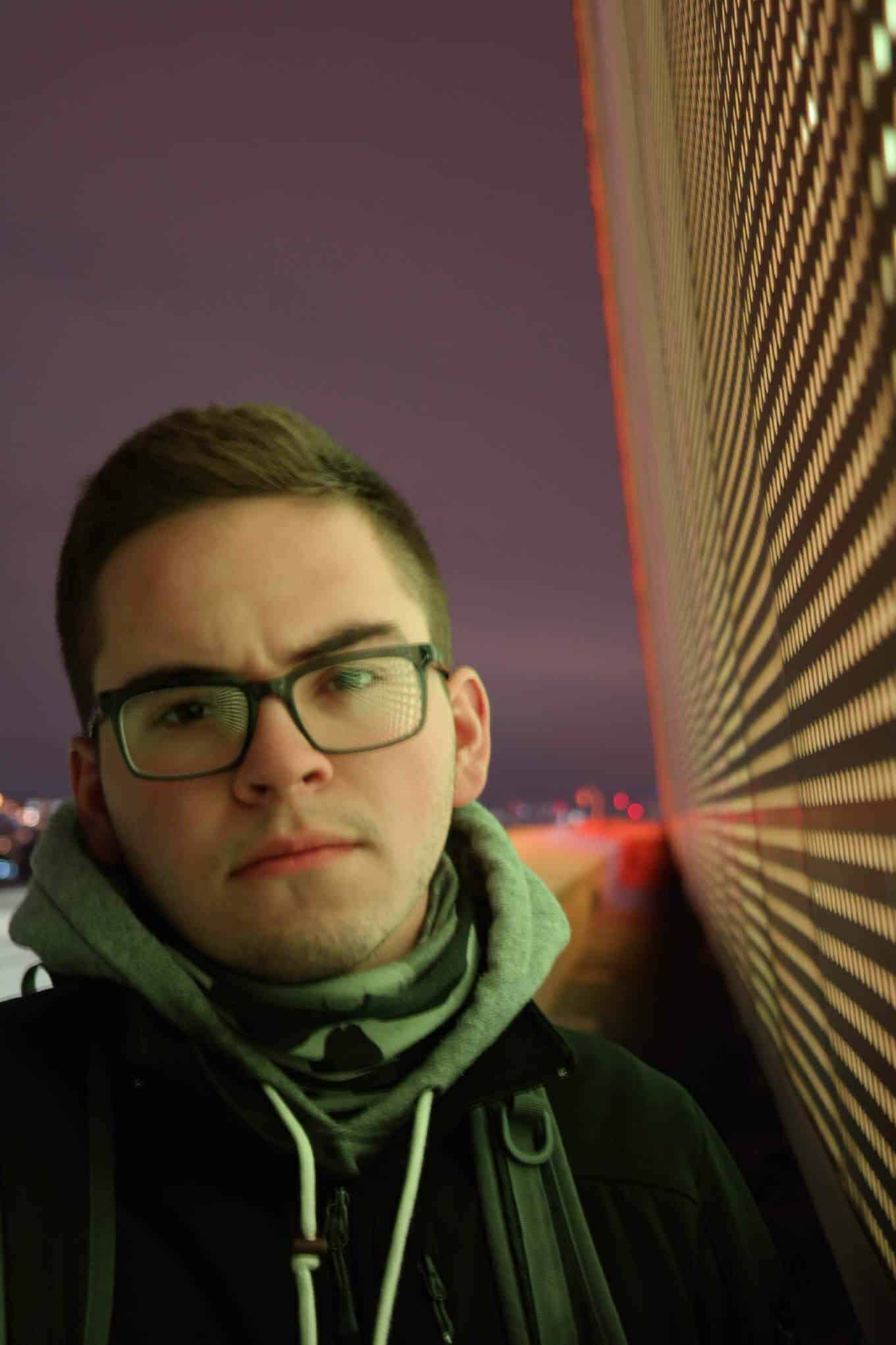 Eagle Scout of Troop 48
AAS: Criminals Justice; Law Enforcement Graduate
IT Technician, Web Designer for Computer PRO Unltd.
Student at the Eastern Missouri Police Academy