When you're running a small business, there are so many different priorities all vying for your attention, it can be difficult to keep your focus on the fundamentals.
But here's the thing about the fundamentals: they are the primary ingredients to your success. They drive it. They prop it up. They support it every step of the way.
In business, you take your eye off the fundamentals at your peril.
And, in the massively competitive business world today, small business IT support is one of the most important considerations there is.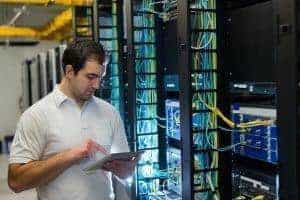 There is no doubt about it, we are living in the golden age of innovation and technological advancements.
And, as every small business will likely attest, technology plays an integral role in the daily life of a business.
With our increased dependence on technology, the greater our need for the right type of IT support.
Like cashflow, IT support is like life support for your business. Without it, your entire enterprise can grind to a halt.
A server crash? A network fail? A computer problem?
When things go wrong – as inevitably, they will – you'll need IT help, expertise, and advice.
The good news is that with the right type of small business IT support, most problems that occur will be fixed before you're even aware they've happened.
For real!
But, how do you know what to look for? How do you pick the best IT support for your business needs?
In this article, we're sharing everything you need to know and more.
Ready to begin?
Awesome! Let's get right to it!
How to Pick the Best Small Business IT Support
1. Outsourcing Vs In-House IT Support
One of the main considerations that all businesses face at some point in their journey to success comes in the form of IT support. Precisely what is the best option when acquiring IT expertise?
To outsource or not to outsource? That is the question.
The answer, for small businesses in every conceivable niche, is to outsource.
While it may be financially viable for a business with over 100 employees to employ a salaried IT professional to deal with problems as they arise, the more pragmatic, and less expensive option for the small business is to outsource.
Having an IT expert, or a group of experts onsite is preferable for large businesses and corporations because of the number of issues that arise in any given day.
But, for small businesses, this doesn't make much financial sense.
As well as providing a salary to the individual, the cost of sick days and holidays will have to borne by you, the employer. And, if more than one problem crops up at a time, one person simply cannot be in two places at the same time.
When you outsource to managed services, your IT concerns and issues are somebody else's problem. And that somebody will relish the opportunity to resolve those issues.
Could you address some of those IT problems yourself? Perhaps. Could you get a member of staff to a have a look? Of course.
But, is this really the best way to ensure your business survival?
Outsourcing your IT support, or combining in-house support with outside help will increase your overall efficiency and save you time and money in the process.
Sounds like a total win-win to us.
2. Proactive Monitoring
When a small business is faced with an IT problem, here's the common scenario.
A computer, a line of computers, or the whole network in the office crashes.
Initially, everyone is calm.
It can't be as bad as it seems, right? Somebody will know how to fix it.
So, everyone with any computer knowledge within the confines of the building has a go.
Ray from accounts. Mary from sales. They all try their best.
But, nothing works. Nobody knows how to fix it.
With each failed attempt, there's an increased sense of panic. A little bit of mayhem ensues for a while.
Then, somebody has a brainwave. Ring the tech line!
So you do. And, you are talked through every single solution that everyone else has already tried.
Despite lots of effort, the problem cannot be resolved over the phone.
You'll need somebody to come out and have a look. Okay?
But wait. The first available person will only be able to come out tomorrow – and that's a special favor to you.
Meanwhile…
Your business is at a standstill.
And, all of that downtime? Every second of that downtime is costing you dollars.
Every. Single. Second.
The good news is that things do not have to be this way. Your IT problems never have to go this far.
When you're looking for the best type of small business IT support, one thing that you should insist on is proactive monitoring.
That's somebody else whose job it is to monitor your network 24/7, 365 days of the year.
With proactive monitoring, you have the peace of mind of knowing that your system is in the hands of the experts. Should your system fail for any reason, a team of technicians will work on the issue straight away.
All that downtime? All that extra cost?
Begone!
3. Remote Support
One of the easiest ways to keep costs to a minimum with small business IT support is to opt for remote support.
With remote support, a qualified technician can log into your system and fix many issues that may arise. This means that you never have to physically take your computers anywhere and you never have to wait for someone to come on site.
Remote support and remote cleanups can help you to get rid of viruses before they cause catastrophic damage.
And, in today's environment, every small business needs proper protection.
Why?
Because security breaches and cybercrime are on the rise for small businesses. And, the costs of repair can be staggering, both in terms of the direct and indirect impact associated with a breach.
4. Business Backup and Disaster Recovery Solutions
Many of us who have used a computer for anything important will be familiar with the feeling.
You search for that all-important document – the one you've spent hours, days, weeks or even months preparing.
You go to where you're sure you've saved it only to find…
It's not there!
You freeze.
Inside, your stomach turns to stone as a nauseating bead of sweat trickles down your brow.
One horrified click after another.
It's not there!
Eventually, the slow realization kicks in.
And it does so much more than hurts.
It burns.
Your priceless data is gone.
Lost to this world forever!
Or is it?
No doubt about it, losing priceless data is no day at the beach for an individual.
But, when it happens to your business it can literally ruin you. A data loss can actually be business ending.
As a result, you need a smart disaster recovery plan in place, ahead of time.
Look out for small business IT support that offers your business data backup solutions. And then go one step further and ensure that they can provide you with a qualified disaster recovery plan.
Do they test the plan to make sure that your data is safe and secure? Make sure there do.
Your business life may just depend on it.
5. Listens and Understands
When you're shopping around for small business IT support, one of the most important things to look for is a company that listens to your concerns.
No two businesses are the same. What works well for one organization may not be the best option for you and your business.
A great IT support company will recognize this.
They will listen to your concerns. They will appreciate your technology and business goals, and they will seek to understand your business and technology needs.
Then they will offer specific solutions to cater to those needs.
6. Bang for Your Buck
With small business IT support, you'll be paying certain fees.
Firstly, make sure those fees are reasonable and commensurate with the service you are receiving.
Of course, it goes without saying that when you are paying for small business IT support, you want any problems fixed as quickly, and as expertly as possible.
Before you opt for IT repair and consultancy, here are some specific traits to look out for:
A proven track record
Quick diagnosis of the problem. It's important that the issue is explained to you fully, minus any jargon that only a computer technician would understand
Providing a solution. The problem resolution should be prompt
Implementing the solution. This should be conducted as soon as possible
Keeping you informed. You should be kept updated along the way
After your IT issue has been stabilized, a good support company will suggest numerous preventative measures that you can take to prevent problems like this occurring again in the future.
Anything else and you are not getting the right bang for your buck.
The Bottom Line on Finding Small Business IT Support
Here's something you already know.
Building a business is not easy.
That glorious passion project has taken your considerable time, most of your energy, and your mammoth effort day after day after day.
We're willing to bet that it may even have taken your blood, sweat, and tears.
Now it's time to fully protect that business.
To that end, small business IT support isn't simply an option; it's a necessity.
Got any questions or looking for some high-quality IT support? If so, contact us. That's exactly what we're here for!

Hi, My name is Josh Giesing. I am the Operations Manager at Computer PRO Unltd. In my free time, I enjoy reading and have a passion for learning.
Summary
Article Name
How to Pick the Best Small Business IT Support
Description
For your small business, an IT issue can really do some long term damage if left untreated. Read on to learn how to get the best small business IT support.
Author
Publisher Name
Publisher Logo