3 Santa Trackers To Look At
Just a friendly reminder. There are many programs out there that give you the option to track Santa this Christmas. We have complied a list for you to look at. In the comments below feel free to let us know how you are tracking Santa ?.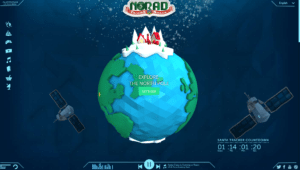 NORAD Santa Tracker – NORAD began to track Santa in 1955. A misprint of a Sears Roebuck ad gave the number for one of NORAD's hotlines. Ever since they have kept everyone up to date on Santa Clause's location. They have many fun games on their website. They also include a section to watch some video's about Santa and NORAD. We encourage you to take a look and don't forget to check out the NORAD HQ section. It gives a great story about how they started tracking Santa.
Google's Santa Tracker – As described in their about section Google has received help from one of Santa's developer elves and has released a great Santa tracker. The best part of Google's Santa Tracker is it integrates into Google Maps to show you his precise location. They also have an android app as well.* They have many fun games this Christmas season that has a focus on learning to program.
*App has been removed as of 2018.  They now include a fun flash game on their website!
Santa Tacker By Santa – Is a great interactive map that even keeps you up to date on Santa sightings and his progress on finishing his sled. With a modern feel the map has a breaking news section at the bottom so you don't miss the latest Santa updates. If you check out their blog you can listen to Kringle Radio and hear some up beat tunes from the North Pole.*
*Service has been removed as of 2018.
If you and your family use a different Santa tracker let us know which one.
We wish you and your family a Merry Christmas from all of us here at Computer PRO Unltd.
Hi, My name is Josh Giesing. I am the Operations Manager at Computer PRO Unltd. In my free time, I enjoy reading and have a passion for learning.
Related
Related Posts