When building your computer never overlook the importance of choosing the right power supply unit. Power supplies are based on more than just wattage, and bigger is not always better or the best option for your needs. A solid computer power supply is necessary for your computer's stability and reliability. Selecting one is as important as selecting the other components in your computer build such as the hard drive or video card.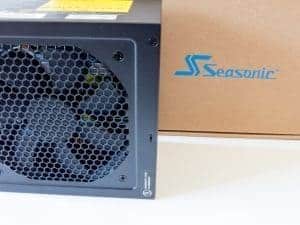 Power supplies are not talked about in the same light as a new video card or processor but, you will be thankful you picked the right one.
What is a power supply?
First, let's start by explaining what a power supply is. Power from your wall outlet needs to be converted so your computer can turn on. The power from your wall outlet is AC (alternating current), and your computer needs DC (direct current) to run the components. Some components of your PC are not necessary for the PC to run but, your power supply is crucial. It is the backbone of your computer.
Quality
We see way too often when computers are custom built or are budget prefabs that the power supply is poorly made. Usually with cheaper and less reliable components such as capacitors and other internal parts.
Always buy a power supply from a reputable company. Never purchase a computer power supply that seems too good to be true for the price. An easy way you can tell is going to be the weight of the power supply. Keeping in mind that a good power supply will not cut corners for cost as mentioned above. The quality power supplies will weigh heavier than the cheaper poorly crafted alternatives.
Modular or not?
Whether you want a modular or connected power supply is up to you and depends on how you want to organize your cables and system. A direct system has all the cables coming from the power supply and can make it difficult to manage cables in your case. A semi-modular PSU has the required cables including the ATX power, CPU connector, and PCI-e connector coming from the housing and the other connections are modular to give you some room to control your interior. An entirely modular power supply allows you to remove all cables for ultimate control, and it is useful if you want to change your build frequently.
Size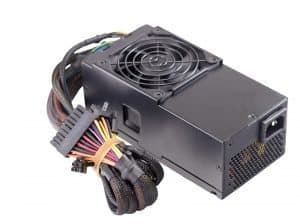 The industry standard for PSUs is the ATX form factor. This makes the system universal and ensures that your PSU will fit into your case and the holes will line up for screws. A full-size tower doesn't have the issue of not being able to fit, but smaller cases have limited room and size should be a consideration. A higher wattage PSU will be an inch or two larger than the standard six inches.
There are a handful of form factors to consider but, most will be using the ATX form factor. When choosing the power supply, you need be sure to see what your case supports. If you are replacing a power supply in a prefab computer, you will want to look up the form factor that the manufacturer uses.
Most smaller cases (microATX and FlexATX) user the TFX form factor. These are designed for the low profile cases allowing for a smaller PSU.
Noise is another thing to take into account. Smaller fans need to spin faster, and they will be louder while larger fans take up more room, but decrease the noise.  They also leave enough space for air circulation in your case too.
Wattage
Wattage is what you're probably thinking of when weighing your PSU options. You'll always want to get more than the minimum needed to run your build to account for variations in power loads and then it can be used longer if you decide to upgrade. It's nice to know that you don't have to buy another PSU when you decide to upgrade the other components of your build.
Most power supplies in the new computers we sell are usually between 350 – 700 watts. The main thing to consider when deciding the wattage is what other components are you planning on using. If your system has a high powered video card or multiple video cards, you will need a larger PSU.
The best thing to do is input your build's components into an online calculator to establish the base power that you'll need or call and talk to one of our PRO'S. You really don't need to go too much higher, if any at all, for performance. Keep in mind that you get what you pay for.
Efficiency
An efficient power supply means you'll be saving money on your electric bill. A higher rated power supply gives the best performance with the least energy usage. The 80Plus standard certifies PSUs that have 80 percent or more efficiency when operating at a specified load. These ratings start at 80 Plus and go all the way up to 80 Plus Titanium for maximum savings. Efficiency should be a primary concern if you have a high-powered system or have multiple systems running in the same house. You'll want to go for a minimum of gold if either of these applies to you.
Number of Connections
Don't overlook how many connectors you need to run your system. There's nothing worse than going to put your build together and realizing that you're short by a SATA connector. You'll either have to send it back to get one that has enough connections or get an adapter to allow you to use all your SATA devices. You'll want a few extras to give yourself room for upgrades in the future. PCI-e connections should also play into your decision. Many video cards require their own power source and you don't want to discover that you have to use onboard video, or no video at all if your motherboard doesn't have it. Take an inventory of all your components before making the final purchasing decision.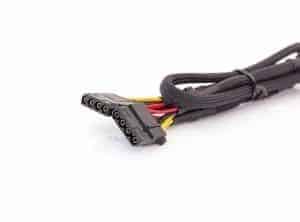 Look
If colors matter to you don't forget to pick a PSU that coordinates with your overall build. The color might not matter much if you have a completely black case that sits in the dark all the time, but if you can see it you'll want it to both look and perform well. Have your fans, PSU and other lights in the system glow bright together in your favored color scheme.
Don't stress or over analyze too much when choosing what power supply to use in your computer, but don't push it aside as an accessory. You need to take your time and ensure that you don't purchase a computer power supply that isn't adequate for powering your entire system. Choose an affordable, efficient, and adequate supply, so you aren't left in the dark when your friends are all turned on.
What Power Supply Brands Do You Trust?

Hi, My name is Josh Giesing. I am the Operations Manager at Computer PRO Unltd. In my free time, I enjoy reading and have a passion for learning.
Summary
Article Name
How To Pick The Right Power Supply For Your Computer
Description
Let us give you some advice on picking the right power supply for your computer. There are many items to consider when picking a power supply.
Author
Publisher Name
Publisher Logo