Email And Its Importance
Communication in business has evolved with email being a primary tool in most workplaces. With cell phones, laptops and tablets many companies are more mobile than ever before. With access to most information at employees' fingertips, email security is becoming a concern for many business owners.
In today's workplace, you have salespeople who can quickly pull up quotes and invoices up on their mobile devices. You have doctors who can review a patient's chart, and you have lawyers who can cram for their client's case while out of the office.
No matter the size of the business we see many taking advantage of this digital age to be more productive and have access to their work from any corner of the earth. While on vacation (hopefully not) you can email your clients or communicate with coworkers who are finishing up that big project.
One of the most significant ways you communicate is email, and with all of that data you are sending back and forth, you will want to make sure you are protecting your company and your clients.
Email Encryption
Email encryption is just what it sounds like. It is a way for you to send an email to someone securely. The email service you use will give you specific safeguards to make sure only the intended recipient receives the message. Some email services will use one-time passcodes or will have your recipient login using their account to verify their identity. With the number of data breaches and online security problems, it is in a business' best interests to protect their data and the data of their customers.
From HIPPA, GDPR, NIST, ISO, PCI-DSS and other compliance encryption is starting to be a standard for many businesses. Email encryption will not just protect you but also your customers.
Azure Rights Managment
Our go-to email encryption service is formerly known as Microsofts EHE (Exchange Hosted Encryption) but this service is now known as Azure Rights Management. This is easily integrated into your Office 365 email system and will give you an easy to use way to encrypt your emails.
Azure Rights Management works off of a set of rules. You can specify what emails should be encrypted by creating a rule for how your Office 365 server handles your emails. Below we have listed some common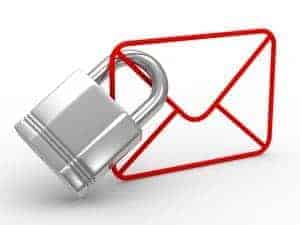 examples we have used when setting up email encryption.
Keywords – Secure, Encrypt, Protect, Sensitive
Patterns – xx-xxx-xxxx
Attachments – .pdf, .doc, .docx
Usually, we have customers use certain keywords in their email subject line. This is option 1 that you see above. Giving you an easy way to encrypt your email without jumping through hoops. The second option is pattern recognition. If the system detects a social security number or credit card number it will automatically encrypt the messages. The third option would be if your message has an attachment. If you only send pdf's that contain sensitive information you could create a rule to encrypt all messages that contain an attached pdf document.
This way only the intended audience reads the message.
The Cost Factor
Yes, email encryption costs more than a standard email account but, the cost is usually 2 dollars a user. This is a lot cheaper than the cost of large legal fees from a data leak.  Implementing email encryption is depends on the environment but, Most enterprise email systems will have some fairly easy options to introduce email encryption.
Many compliances also require email encryption. HIPPA, NIST, and other compliances require you to protect sensitive information. Email encryption fit's into most compliances models without an issue.
If your company deals with any sensitive information encrypted emails are a must. Keeping your clients and your data safe should be a top priority for every business.
For more information about using Emai Encryption With Office 365 Feel Free to Contact us. If you are interested in reading more about Office 365 and signing up for a trial use the link here. You can also see the infographic about the history of Office here.

Hi, My name is Josh Giesing. I am the Operations Manager at Computer PRO Unltd. In my free time, I enjoy reading and have a passion for learning.