Technology is ever-increasing, and it isn't just concerned with nerdy types that attended MIT, or the ubiquitous hackers that seem to be everywhere. A word that those of us who just use ordinary technology such as smartphones, tablets and laptops are likely to add to their tech vocabulary is…Wi-Fi 6.
Everything you wanted to know about Wi-Fi 6 but were afraid to ask
What is Wi-Fi 6 and if I just surf, text and chat, why should I care?
As many as 80 to 90 percent of people use a wireless home router at home. And the average home has around 6 connected devices at any one time, with around 6 percent of homes having 15 connected devices.  Theoretically, the average router can be connected 255 times, but there are several problems, the first being you will share the bandwidth with all the connected devices, and no router will actually boost the actual internet speed your internet service provider is providing.
So while a router won't improve your overall bandwidth, changing routers can significantly manage the bandwidth that you have available for a device.  We are on the 6th development of routers, and before we discuss Wi-Fi 6, a word about the confusing names. The original router was called an 802.11 router, named that way by the Institute of Electrical and Electronics Engineers.
Then there was the 802.11b, 802.11a, 802.11g, 802.11n, and 802.11ac. Eventually, the Wi-fi Alliance decided to make some sense for everyday people, and the fastest previous designation was renamed Wi-Fi 5, with the next and latest generation being of course Wi-Fi 6.
What is the general advantage of Wi-Fi 6?
Wi-Fi 6 allows you to obtain the maximum possible out of your router which leads into the technical portion of our article, and we'll try to be a simple as possible about it.
Router Speeds 101
A router actually has three speeds that will you will see on the box:
1. The Advertised Speed
2. Ceiling Speed
3. The Real World Speed
Confused already?
We don't blame you. About 95 percent of internet surfers are, and we promise it will get easier as we go along.
First, the Advertised Speed is the fastest possible speed you could get in a perfect world with no interference.  People often liken surfing the internet to being on the internet superhighway, so in the case of a router, the advertised speed would be the equivalent of driving in 10 miles in a huge wind tunnel.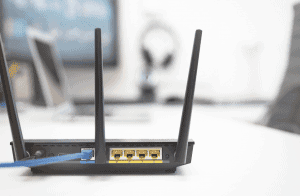 No, not the Musical Band
The second thing about advertised speeds is that most modern routers have two bands, 2.4 GigaHertz and 5.0 Gigahertz, which we will compare to driving top speed on a dirt road vs a paved road.  If automotive manufacturers acted like router manufacturers and you could drive 100 miles per hour on a highway, and 75 miles per hour on a dirt road, then they would slap a sticker on the ar that said the car could go 175 miles per hour.  It's literally impossible to use the both bands at the same time on a router so that 2400 Mbps per second maybe in actuality be 600 Mbps on one channel and only 1800 Mbps on the second one.
The ceiling is the true max of one bandwidth so in the case of a 2400 Mbps router with 2.4 and 5 MHZ bandwidth, the ceiling speed, the absolute best you can get, is perhaps 1800 Mbps.  However, that ceiling speed is actually limited by the connecting speed of the device. In the case of an iPhone for example, that connection speed could be as low as 433 Mbps, even though the router says you can connect at 1800 Mbps.
Finally, there is the real world speed, which is how effective your devices actually connect in your home.  Distance, signal loss, obstacles, interference, and compatibility of equipment all affect the real speed. In general, figure your real-world speed will be about 1/3rd of the ceiling speed.
Which takes us back to Wi-Fi 6.
You may not experience much difference in speed between a single laptop connected to a Wi-FI 5 router as compared to a WiFi 6 router.  However, the story changes significantly when you add 6 or 10 devices hooked up to a Wi-Fi 6 router.  Again, any type of router will not boost your internet speed overall. If you pay for a download speed of 15 Megabits per second, no router will boost it to 60 Mbps.
However, what a Wi-Fi 6 router can do is boost your overall speed of all your connected devices on your network. It does this by boosting how much data can be transferred in a single burst, thus preventing traffic jams between devices connected to your network.  Wi-Fi 6 can also reduce the amount of use of your battery on connected devices, and increase the range.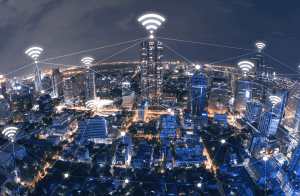 So what's the catch with Wi-fi 6?
There are two, both of which are significant. The first is that Wi-Fi 6 is a hardware innovation, not a software solution. You can't just download some firmware and transform your Wi-Fi 5 router into a Wi-Fi 6 router. You have to buy a new router.  So that's a minimum of around $80 to around $130 out of your pocket.  The second thing, although they are backward compatible unless your devices are Wi-Fi 6 enabled, they can't take advantage of the technology.
Common smartphones with Wi-Fi 6 technology include:
iPhone 11, 11 Pro and 11 Pro Max
iPhone SE
LG V60 ThinQ
Motorola Edge Plus
OnePlus 8 and 8 Pro
Samsung Galaxy S10, S10E, Note 10, S20, and Fold
Laptops include the:
Asus Chromebook Flip c436
Dell XPS 13 (2020)
HP Spectre x360
Lenovo Yoga c940
LG Gram 17
None of Apples laptops support Wi-Fi 6, and neither do may smartphones. In addition, there are no wireless gadgets such as Alexis that support Wi-Fi 6. So the promise is theoretical, not practical for many people at the present time.
In a few years, Wi-Fi 6 may be the standard for every wireless device, and at the same time, Wi-Fi 6 routers and Wi-Fi 6 mesh units may drop drastically in price.  Still, Wi-Fi 6 will be a significant advance for most people as they buy devices capable of operating on Wi-Fi 6 and will fill a great need in a world of overcrowded devices.
Have any more questions about Wi-Fi 6?  Give us a call, or contact us here!

Hi, My name is Josh Giesing. I am the Operations Manager at Computer PRO Unltd. In my free time, I enjoy reading and have a passion for learning.