First you must ask: Why am I here? The answer to this first question will be referenced throughout the series. It should become your project mission statement. You must keep this answer in mind through the whole process as you build a PC. The parts you select may make things difficult in the long run if you have conflicting goals. Is your old machine crapping out? Or just not keeping up at work? Could it be because you're sick of the restrictions of gaming consoles or the desire to have that unique setup? Do you just have a lot of money? When you build a PC, walking through the steps can sometimes be frustrating. But when you hit that power button for the first time and the magic finally happens, the feeling of accomplishment is amazing.
There are a lot of different build types and parts. Choosing the ones you need is essential for a good foundation for your new machine, so let's walk through your motivation.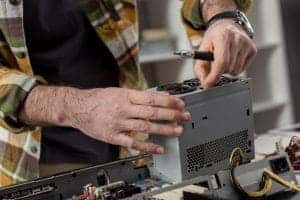 Deciding What You're Going to Use It For
Internet Machine
Are you just getting on the internet? YouTube, Facebook, checking your email? There are a ton of laptops, netbooks, and tablets that you can order pre-built, but that's not why you're here, is it? It's certainly easier than you think to build a PC that works for only simple tasks like storing pictures and getting on the internet. At the end of this lo-fi build, you'll be able to surf the web with ease and archive photos quicker than ever before.
This configuration won't run most modern games and will be difficult or impossible to upgrade. This shouldn't be a problem, you presumably won't be using it for much. This is a great build to get your kids interested in computers! It's inexpensive, easy to assemble, and they can use it for anything you approve. This is also a great build to attach to one of the HDMI ports on your TV. Having this setup will display the full glory of the internet across your living room. Ideally, this small box setup could be placed anywhere around the house, moved easily, or relocated to a new area altogether.
Work/production
So, the boss is moving you up because they've been giving you take-home photo editing assignments, but ol' reliable just isn't cutting it anymore? Or maybe you ARE the boss and you need to run a server for your new private network in your small office. Regardless, you're certainly going to need a little more oomph than the Internet Machine build will get you. These mid to high-tier machines can have multiple CPUs, a ton of ram and storage, and they *can* get expensive.
From running Photoshop/Illustrator, to establishing a network, it's worth shopping around and reading a little more so you get the exact performance you're looking for. One of the most frustrating things you can do is purchase and build a PC, and it not be up to spec. This guide does all in its power to make sure you have a machine that serves you and your needs for years to come.
Upgrading one of these machines isn't near as much of a headache as upgrading an Internet Machine. Typically, those in this category start mid-tier and adjust depending on software updates or industry standards, often just needing something simple like more Hard Drive space or more ram. Don't let this intimidate you, I'm sure you'll be more in the know by the time this series is over.
Gaming/Bitcoin Mining
I knew it. You want the Big Boy. The titanic tower that'll propel you to achieving your MLG (Major League Gaming) dreams. Brace your brain, your patience, and your wallet; you're in for a ride. Building a gaming computer is no joke, but it can be very fun. There are lots more options as far as equipment; the sky is the limit. Such an expensive and time-consuming hobby will swallow you up easily. Some of the more elite towers cost upwards of $3000, so make sure you're financially equipped to make these kinds of decisions.
Besides being expensive up front, your electricity bill and how the total power consumption of the machine is now something to account for. The more often it's left on, the more expensive this gets. The rule also applies to the mid-tier build, as servers should almost always stay running. Getting your gaming rig up and running will take a bit more effort than the other builds, but you're closer now than ever before, so don't stop now.
Regardless of your build style and type, this guide is going to power through it. Your journey to build a PC is fresh, and there's still so much to do and learn. In any chance you become stuck along the way, our computer repair specialists would be glad to answer any questions you might have. We continue the series next week with physical part restrictions; what parts go together, what to look for, and why. See you then!

Summary
Article Name
Description
Detailed instructional guide on How To Build A PC, written by experts as a guiding hand to those less experienced.
Author
Publisher Name
Publisher Logo