Computer PRO Unltd. is celebrating our 20th Anniversary on July 7, 8, and 9, 2016.  20 years is a long time and we want to thank our many long-time customers.  Therefore, we are offering some great specials and learning resources during this time.  Some of these specials are listed below:
25% off Online Store CODE: STLPOST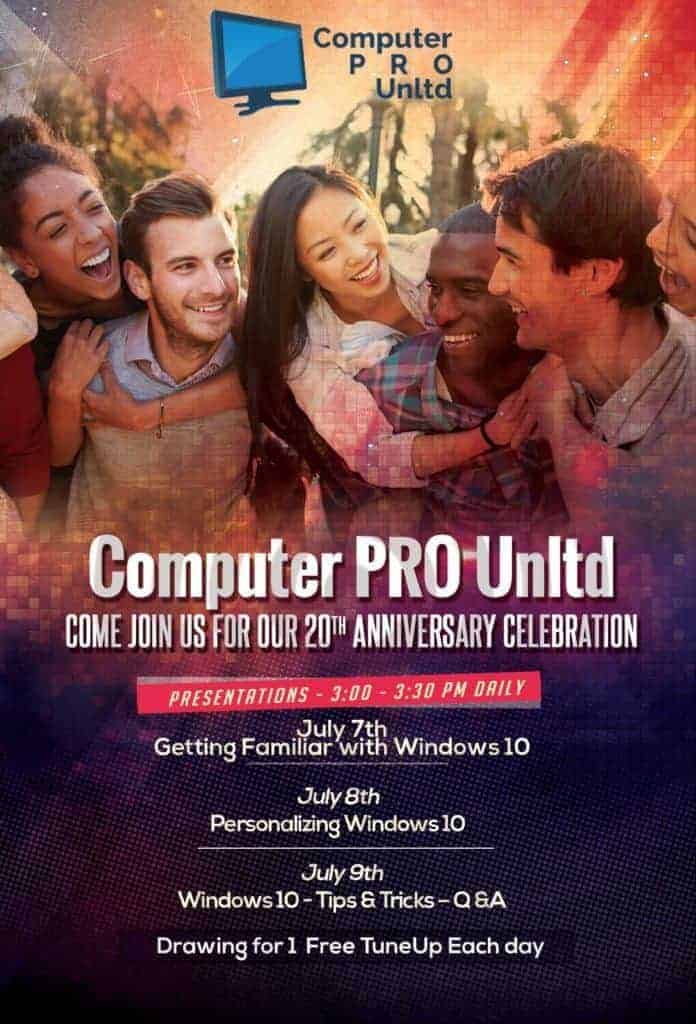 Online Specials Only:
$10 off Labor and Antivirus Packages from 7/1 through 7/30 – Just call to schedule your remote or purchase in our online store.
In-Store Specials:
Gigabyte BRIX System on Sale
Lenovo System On Sale
Lenovo Laptop On Sale
In-Store Drawings on 7/9 @ 5PM
23.5" Acer Monitor
3 x 1 Yr. Subscription for Office 365 (Each is Good for 5 PCs)
(Limit one entry per day per customer + 1 add'l entry per purchase made during the period 6/22/16 to 7/9/16)
Newsletter Subscriber Specials (Must Bring in Coupon):
Quick Remote Check Up
Facebook Specials:
Follow Our Facebook Page for "Surprise" Specials
Learning Resources from 3:00 PM to 3:30 PM, 7/7, 7/8 and 7/9:
Windows 10 Presentations