Essentials Mini: Our New "Puntable" Computer
Last Updated on February 11, 2017 by Jeorge Bryan

Let's face it, in today's world there is a computer everywhere we look. Most of us don't go a day without coming into contact with one, whether it's our phones, laptops, desktops, or even televisions; they are all computers.
But, what if you wanted to have the portability of a laptop and the power of a desktop in one computer? Look no further, we are now offering a new build computer that offers exactly that, at a competitive price!
Bigger Isn't Always Better
If you're wondering why you would need such a tiny computer, the answer can vary, but this computer is designed for one thing in mind, it's a media computer.
A media computer is a computer that is generally hooked up to a TV, projector, or stereo, and allows you to easily stream movies, music or even TV (a great way to cut cable costs). When you want a computer to do this you wouldn't want a large and bulky computer taking up valuable space, that's where this computer comes in.
In a previous article, Brinn, discusses how compact PCs are probably going to be a big thing in 2015.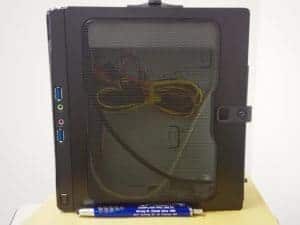 Above is a picture of what makes this computer stand out when compared to other media center computers. The bottom and side of this case contain mounting points that allow you to attach the entire computer to the back of your TV or large computer monitor.
Not only does that save valuable shelf space, it also hides the computer and it's lights from plain sight, which can get annoying during movies.
Essentials Mini Specifications
As always, the components listed are merely an outline, and can be customized to your needs.
Intel LGA 1150 mini-ITX motherboard
Intel Core i5-4460 Quad-Core 3.2GHz Processor
Built-in AC WIFI
Two HDMI Ports built-in
DVD-RW Drive
8GB DDR3 RAM
Windows 7 Pro, Windows 8.1, or Windows 8.1 Pro
Dimensions: Tiny
And just like all of our new builds it comes with an incredible two year warranty that includes parts and labor.*
*Punting the Essentials Mini "Puntable" computer is not covered under warranty.
Related
Related Posts