Cut Your Phone Bill With Ooma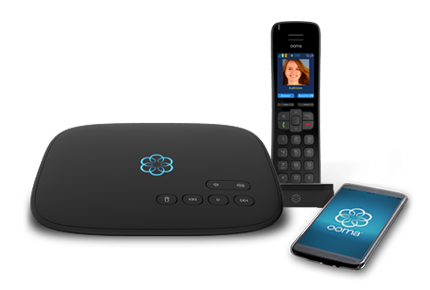 Ooma is a voice over IP (VoIP) alternative to normal phone service. With Ooma, your phones are run off your high-speed internet rather than paying a monthly phone bill.

The benefits of Ooma VoIP
No monthly fees, you just need to purchase the Ooma Telo box.
Free U.S. calling with caller I.D. and call waiting.
Optional Bluetooth to link to your mobile phone or headset with your Ooma Telo.
Access your home phone's voicemail remotely.
Caller-ID blocking features.
Call encryption.
An optional WiFi adapter for wireless devices.
Setting up Ooma is extremely simple; it just consists of buying the Ooma Telo device, hooking it up to your high-speed internet, connecting the Ooma Telo to your home phones, and activating online. You can even transfer your existing phone number for a small one-time fee. The only recurring cost with Ooma is any taxes or fees required, all of which are ridiculously small amounts. If you never want to see a huge phone bill again, Ooma is a great option.
Besides my love for computers, I am a motorcycle fanatic. I have a background in Office 365 support and windows server.
Related
Related Posts